Natural Celestial Event? or End Of Days?
No matter your belief system or lack thereof, unless you have decided to move into a cave and attempt 13 years of uninterrupted happy thoughts, you are going to begin hearing "those stories" again. , …you've seen the movies the re-hashed biblical "revelations" doom and gloom. Whether it was four horsemen from the Apocalypse or angel/demons blowing trumpets from hell/heaven, or an old guy in a long white beard who lives in the clouds and is really pissed at us, (that was one from George Carlin btw - known from here on out as "The Carlin" )- but I digress for the moment, you see in keeping my proper title and position of tenure in the Museum of the Hard to Believe, I keep it coming at you with both Full Disclosure barrels and I submit to you that indeed a natural celestial event is coming our way in approximately 10 years from now according to Secret Space Program insiders Corey Goode and Emery Smith, two of our military that you don't know about but should support in exactly the same way as you do our Earth bound Vets - but my evidence spans way beyond these two, and frankly anyone directly connected with them. They represented what to me was the final corroboration of something I already knew was coming, but I got a timeline and practical reason that did not include the demons and gargoyles crawling out of the ground or brain eating zombies or a nuclear holocaust. You see, as I, your CosmicGuy have said many times on social media and in my DisclosurReport in 5's - every aspect of human history has been based on lies and deception so when we examine this flawed history with that concept drilled into our minds, we begin to recognize the real pieces parts of our history that are fact, because they are the so called lies we keep getting told that keep coming back to bite everyone, especially the ones telling the lies. (Area 51 / Roswell New Mexico ET crash)What do I mean?
Consider this https://www.reddit.com/r/conspiracy/comments/b3r3tp/the_adam_eve_story_declassified_cia_document_if/
and this https://archive.org/stream/ChanThomasTheAdamAndEveStory/Chan%20Thomas%20-%20The%20Adam%20and%20Eve%20Story_djvu.txt
Here are the search results- Page - https://www.google.com/search?q=am+and+eve+cia+document+released&oq=am+and+eve+cia+document+released&aqs=chrome..69i57j69i64.6071j0j8&sourceid=chrome&ie=UTF-8
What does The Vatican Need With a Telescope?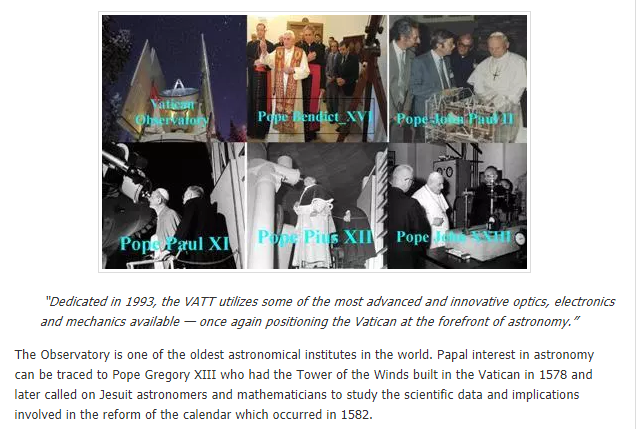 Obsession with something Celestial?
nasa can not be trusted - but….
Here is a Legit Picture of a "baby" sun flare.
Folks the whole damned sun is gonna do that, not for a real long time, but just long enough that if you are not safe underground or have 1,000,000 sun block, it's gonna be a very bad day for you.
Did you know that The Vatican has it's own telescope but that seems not to have been enough this last 15 years, for they've been opening the big vault and renting up multiple giant telescopes, the biggest we have in the world and no one knows just exactly what they are so interested in - out in space. Ok, now let's examine such things that appear over and over in multiple religions doctrines about a judgement day, or end of days, or revelations, the return of - "fill in the blank"…There is always a ring of truth when a singular concept keeps re-appearing in our history books, and religious books and philosophers from all ages just seemed to know something about what was to come…Nostradamus is one, Edgar Case another, and many before and after. No one really took them seriously, not on a large enough scale to make a conscious difference, and I will get back to that. In this article or any, when you see the word "they" or what "they've" done or tried - I am speaking of Satanists, - just so its clear. IF you need to learn more before going on I encourage you to click on this link and come back later - but my point is they've tried to mystify us instead of tell the truth, they've mostly tried to scare the living daylights out of us instead of telling us the truth. Denial has been a very effective psy-ops weapon to keep the masses in line…Offering a multitude of 'possible answers"' or endless theories just eats up more time that "we the people" don't have now, and are kept in the dark, pardon the deliberate pun. So without further bullshit, here's what you need to know, then I will turn most of this page over to more interesting evidence in picture and video format.
-there indeed is a natural celestial event about to happen around 2029-2030
-this celestial event simply just happens every 26,000 years or so and we happen to be living in the time its going to blow. lucky us.
-there is a divinity connected to it that reverts back to each one of our own personal belief systems and what we each expect once given the opportunity to move on from this existence of pleasure and pain to A HIGHER PLANE OF EXISTENCE BOTH PHYSICALLY, MENTALLY AND SPIRITUALLY.
-IF YOU ARE NOT READY TO ASCEND YOU CAN STILL SURVIVE THIS NATURAL CELESTIAL EVENT IF YOU ARE GIVEN ALL THE FACTS, AND THE TIME TO PREPARE.
NOW YOU KNOW WHAT THE ELITE"BREAK AWAY SOCIETIES AND THE SATANISTS HAVE KNOWN FOR A VERY LONG TIME, AND THEY WERE NOT GOING TO TELL "WE THE PEOPLE" OF THE WORLD. THEY WERE GONNA SAVE THEMSELVES AT OUR OUR EXPENSE. 15 TRILLION IN TAX MONEY, WHICH IS HALF WHAT HAS BEEN PILFERED FROM US.
RIGHT HERE YOU HAVE TO LEAVE YOUR OWN POLITICS AT THE DOOR. THESE PEOPLE SERIOUSLY HAD A PLAN FOR ALL OF US, BLACK, WHITE RED, YELLOW, GREEN PURPLE MAN WOMAN CHILD…OK?
Remember it's the Universe we are talking about here. It does what it pleases while the rest of us are making plans.
So don't be frightened, be pissed that your government leaders, the lifers have known, and have always known just like the Vatican has always known. Also be prepared. Chance favors the prepared mind, so after you spend quality time on this page and the site and do your own further research you may want to begin constructing your own survivalist plan. OSTO will be covering that as well in the coming months. The approximate window / date structure INTEL I gleaned so far has this happening 2029-2030. -CosmicGuy 8/30/2019
This is an ongoing subject that will continue to reveal itself as our Universe unfolds as it should. OSTO will use our social media to inform you of any updates to this or other pages on our site. Namaste'