Meet Cosmic Guy
Right out of High School circa 1977
Club in Philadelphia called, "The Main Point"
My name is Guy Eugene Partin, consider me your "Cosmic Guy" from this point on. I am an ISBE in a "Biological Computer Suit", just like you. I have known since I was a little kid that this existence, this life, this world is not real, can not be right, and is in need of severe change.  

A product of two very young parents, one a guitarist and singer headed into the Army on the buddy-system with the rest of his band, and the other my mom, following only the path where her love was taking her. From Winter Haven, Florida to Schenkfurt, Germany and back to Fort Myers, Florida, the adventure had only just begun.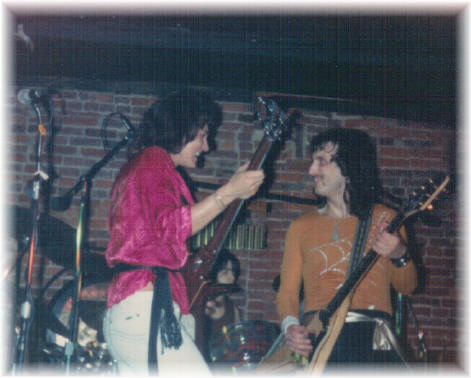 I learned many things from "Z" - meditation, the law of one, meatless diet, and his talents demanded I up my game. I hope he is doing ok these days.
Exploring Musical Phenomena Intensely Radiating Energy
Yes we were just that pompous and pretentious..but we kicked ass. 3 geminis...it was like 6 dudes were playing... :)
Me | Gary "Machine Gun" Deren | "Z" (Zolton Zacny) |
Sex, Drugs n Rock n Roll?
Not much drugs. I was witnessing musicians around me, older than I, self-destruct...sure I partied some, but I was absolutely dead serious about my career. My voice and my playing ability was my ticket out of palookaville - i hoped...
Besides space, UFOs and the big conspiracy, I too became a musician, bassist, guitarist and singer, and from age 14 until graduation from high school I performed most weekends with my mother and fathers group, "Good News", and we sang and played along with a drummer and trumpet player. I graduated from Upper Darby High School (jim croce |todd rundgren|tina fey) right outside of Philadelphia and went head and growing hairfirst right into the full time club circuit, playing cover tunes to make a living, and spending the profits on studio time and promotion of my own songs...what a time, 'Mr. Toads Wild Ride!' - g partin circa 1980's
quite proud of this band, it was the last full time group i performed/traveled with, "money" - the song is queens bohemian rhapsody, there's my same fender p-bass....loved that baby...
more rockin' with "money" - we actually released an original album in europe and were slated to begin touring when the usual music industry bizarrities happened...lol
| Rod Margolis | Me |
| "Zuff" | Larry Baud |
On into the 80's I was living a music man's life, having a home-base apartment somewhere but usually without me. I was still into Star Trek, Star Wars, UFOs, and conspiracy theories. It was also during this time that I discovered my first 'scientific' disclosure influence in Carl Sagan and his 13-part series ironically called "Cosmos" on the local PBS station. I was enthralled with all the INTEL coming from this series. One of the many fascinating facts I learned from this show is how nothing is static. Not even our solar system. Did you know our whole solar system, sun and all moves in a corkscrew pattern on its own celestial trajectory as Carl called it. The Earth turns, but we can't feel it move. We breathe oxygen but we can not see it, taste it or even smell it when it is clean. So, how do we just automatically accept that it is indeed there? Just as when a tree falls in the forest of a positive gravity world, whether you are there to witness it or not, it still makes one hell of a sound. :) These are truths.
After enough craziness on the road, I settled down (kinda) and got married, had a couple great kids and started an A.I. career (but back then it was called I.T.)... I still wrote music and performed as a weekend warrior. Before "Cosmic Guy", I was your "Computer Guy" back then...IT, web design, computer support, training, database design, you name it - I was in the thick of it when it came to technology. I could not be more proud of both of my kids. Divorce was tough on all of us, but especially to an eight year old little girl. She has ultimately weathered the storm and come out the other end better than ever, as has her dad. My boy is poised to be ....well, whatever he wants to be. The long hair is coming back now (7-2017) if you goto my show section on the site you will see a pic of the 'lean-mean Cosmic Guy' with my blue Dean acoustic guitar 'posing' inside the infamous "Land Whale" I used to own. - I have lost over 50 pounds since changing my lifestyle including veganism.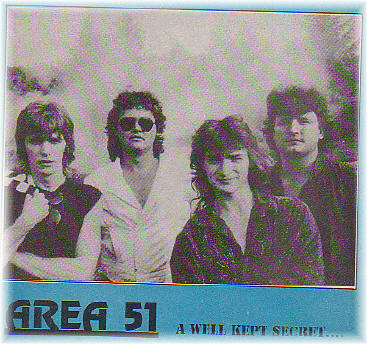 Yep, that was the name of my ORIGINAL band in the 1990's
I was still rockin' just married with children and being a pro geek.
| Brad Farnsler | Me | Russ Kern | ? |
My old band buddy Mark Sutherlands band (far right)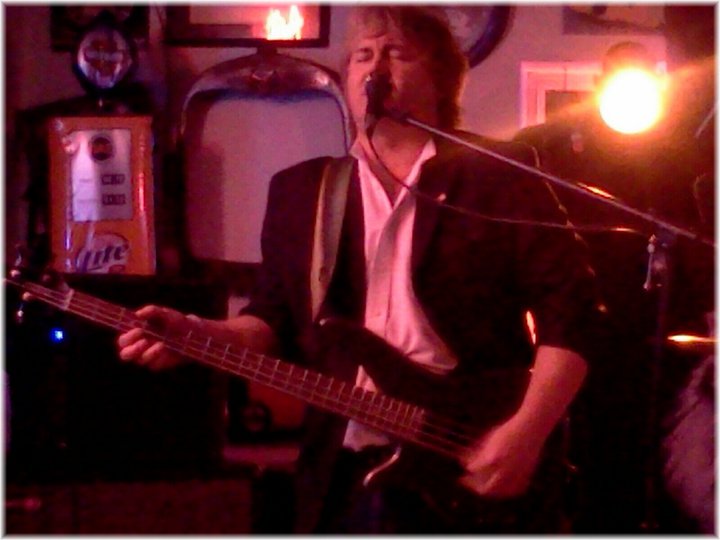 I am 163 pounds here. Winter.2018
my disclosure roots circa 1988 -2003
CIRCA 1988 My 1st Disclosure job:
E.T. Monitor on wgcb tv
I was an advertiser on this man's show first, followed by a field reporter, then an occasional co-host and a brief stint as host. The INTEL he turned me on to is not only relevant to this day, but some of it took almost 30 years to be vetted by none other than Corey Goode and William Tompkins among other whistleblowers.
I began an internet radio network back when it was stone knives and bear skins....I was doing it long before anyone else - these screenshots are courtesy of the WAYBACK MACHINE. We covered the 2000 debacle election, AND the 9/11 attacks LIVE on Internet radio with much of the cubicle-market in Central, PA listened to us.
That was me....doing it before anyone....just about...
I produced many original shows. variety-niche'-music
yes i was broadcasting a ton of shows every week. thats me up on the right, second down...doing the geek cubicle thing...
look what i was covering 18 years ago.
the main stream was the name of this show. i was covering some interesting topics even waaaay back then...
2017 - now
::::::::::::::::::::::::::::::::::::::::::::::::::::::::::::::::::::::::::::::::::::::::::::
phase one: here is a pictorial breakdown of 2017:
getting ditd on the road.Re-mastering my reality
phase two - the "landwhale" adventure....birth of d.i.t.d.
phase three: the land guppy is acquired and into the desert I go....
Lean, mean cosmic machine...190 pounds.
Vegan, tee-totaller, 420 friend/advocate, and sungazing maniac. Relentless as the Jedi I expose the truth of this 21st Century. The Brutal Truth I dropped to 163 pounds by Winter 2018. This is my proper BMI weight. It will be easy to stay here now.
i visited a real oasis out in the middle of the friggin' desert....with a mystery...can you see it?
My OLD NIGHTLY show was my baby, 7 nights a week! I lived off the grid in my trusty disclosure-mobile, broadcasting from different locations every night, often in the deserts of Palm Springs, Joshua Tree, and the Inland Empire. Relentless as The Jedi I have always been in the 'disclosure' business, even before it was referred to as such. I can remember clearly as a little kid in the 60's watching "Lost in Space" and "Star Trek" for the first time. Beyond the obvious eye-candy of the look and feel of those shows, the stories (in Star Trek at least), were compelling. I knew inherently at a cellular level that not only was nothing right in this world, but that I could easily exist in that Star Trek world, or the Star Wars world... just without all the "Wars!"...What I do on Disclosure in the Desert is relay to anyone curious about that 'something more' inside we all feel, that you are not alone, and that there is some very important information you need to be aware of. Just remember I don't expect you to believe me, but I do expect you to listen to the facts and make up your own damned mind. Truth = Change.
my original compositions for the disclosure inititative
We are all Immortal Spiritual Beings
and here is one of my original compositions proclaiming so…
full disclosure love & forgiveness
ok - here's where this isbe reaches out via the co-creative consciousness and via manifested actions in the 3-d world by utilizing this space to plead, "is there another caring isbe out there that can put a slick disclosure video together based on the criteria in the lyrics? i will share all 50/50 - whatever that is. i don't care really. it is all about finding a way to make this song/video go virile on youtube/fakebook etc...and get the masses not paying attention to all this, to become curious...its a win if i simply make you curious....the vid is a yawn,,,but lyrics are in there. please take the time to listen to the whole thing - i even do some authentic "rap" 2/3 way in...no really. rap. white dude. old white dude. just a little though. yer welcome.